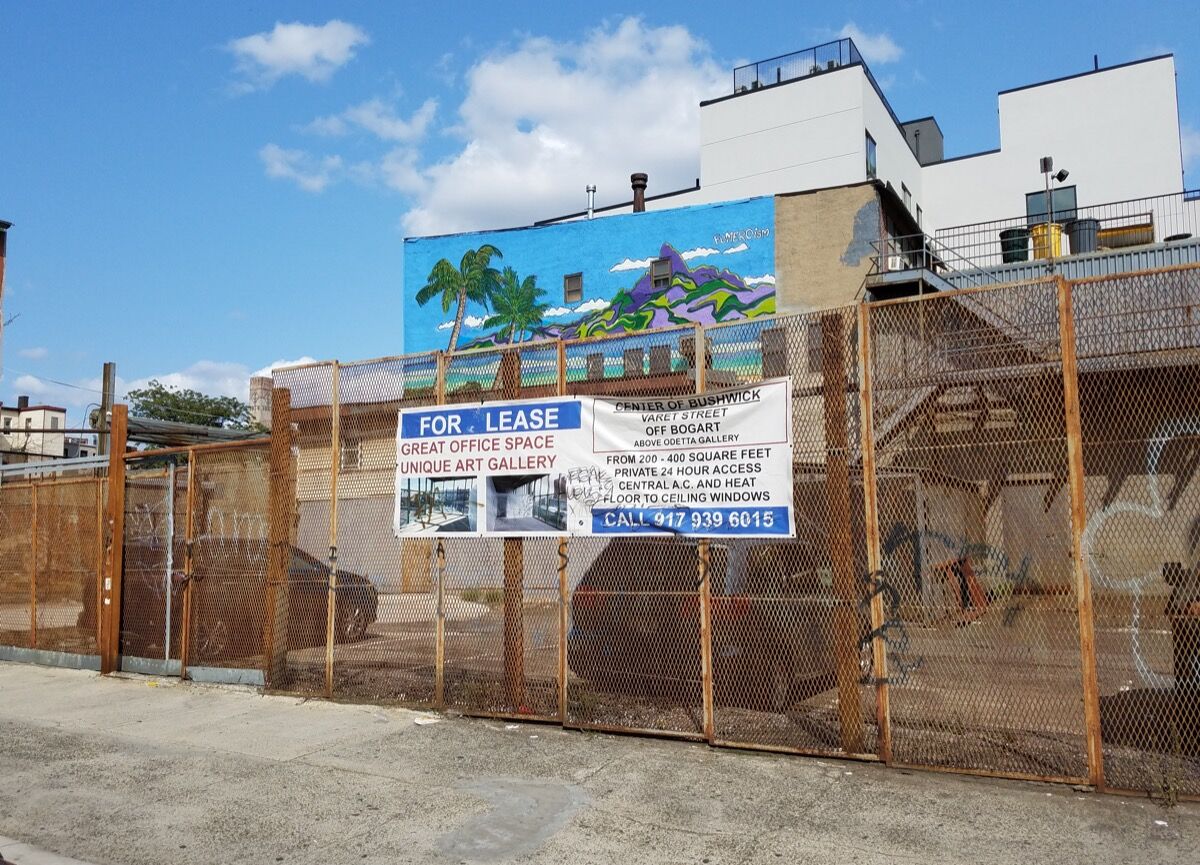 Source: https://www.artsy.net/article/artsy-editorial-role-artists-play-gentrification
This article talks about the link between artists and gentrification. The example given in the article is that a Los Angeles-born artist called London Kaye had "yarn-bombed" a building in Bushwick and posted her work on Instagram.
A few weeks later, Will Giron who is a lifelong New Yorker and a building rights activist, went to visit his aunt who lived in the neighbourhood. It was his aunt's building that had been "yarn-bombed" by Kaye weeks earlier which left Giron angry due to the fact she had not asked for permission. Giron had complained to Kaye and the Head of Bushwick Fleas, who then threatened to report Giron's aunt to the health department as she sells food outside of the building. In response, Giron stated the Head of Bushwick Fleas should be grateful about the artwork as it would increase the value of his aunt's building.
For Giron it wasn't about the art, he felt as though his area had become overrun with outsiders who were attracted by the area's art scene and didn't care about the people who have been living there before them.
This article mostly focuses on the negative impacts of Gentrification, for example, the increase in rent (the rent had increased by 44% over the last 20 years), a different group of people and the buildings and businesses associated with gentrification such as restaurants, art galleries, bars etc.
Here is a section from the article which I found to be interesting:
Giron's story went viral in New York media because it encapsulated a seemingly new problem: artists in the city being vectors for massive rent increases and widespread displacement. Some Bushwick activists have even called gentrification a new form of colonization.
In the next paragraph, the article refers to an essay called: The Fine Art of Gentrification which was originally published in the journal October. The essay covered many of the same issues in the East Village that Giron was experiencing Bushwick.
In 1984, an essay called "The Fine Art of Gentrification" was published initially in the journal October, and covered many of the same issues in the East Village that Giron later experienced in Bushwick:  galleries as white-majority spaces that gave developers reasons to buy up land; the fear of original residents being priced out; a local press fawning over the new "revitalization" of the neighborhood; and insensitive artists benefitting from it all. "Who cares" about gentrification, art critic Kim Levin is quoted saying in the article, "as long as they're trying to show good art."
The article goes on to mention how artists do participate in Gentrification however they aren't the sole cause of it.